The life and times of H.G. McKinnis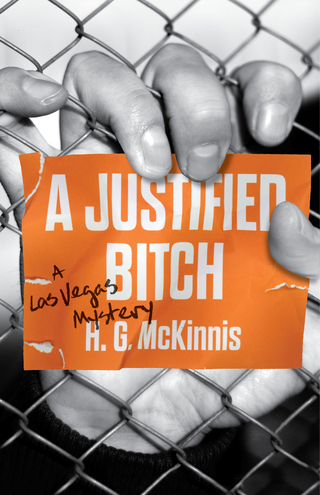 H.G. McKinnis' new book "A Justified Bitch" is available for pre-orders now, and will be in bookstores on August 8, 2017. It will be published as a paperback, an e-book and a full-length narrated audiobook.

It takes a guilty bastard to make a justified bitch.

When a severed finger shows up on her doorstep in a seedy section of Las Vegas, Helen Taylor does not freak out. She's already crazy, as evidenced by her junk-stuffed house and its ever-growing population of cats. There's also Bobby, her long-dead husband. Helen talks to him regularly, and Bobby talks back.

The finger and the brutal murder it reveals are more than a hoarding cat lady with a phantom husband can ignore. Helen's a suspect, and she ends up in jail. Summoned by the detective on the case, Helen's sister Pat arrives from Phoenix with two teen-age boys in tow.

While Helen is AWOL from a mental facility, another gruesome murder is discovered. Pat, the boys, and the detective struggle to separate fact from insanity, but it takes power beyond the ordinary to bring the truth to light.


Excerpt:
Chapter One

Friday, July 2

The Las Vegas heat shimmered off the patched asphalt, giving an opaque and eerie quality to the air. Sitting on her porch, Helen stared into the afternoon sky, rocking and humming quietly. The corner lot gave her an exceptional view of the neighborhood. Through the wire-enclosed backyards, she had an unobstructed view of the cluttered expanse all the way to the next corner. In the opposite direction, long-abandoned treasures lay baking in the sun: old cars, worn-out furniture, and less defined objects—maybe toys, maybe tools—all of them showing signs of exposure to the harsh desert environment. Across the street, beyond a car tagged with an orange tow-away sticker, she tried to decipher the hieroglyphics of the new graffiti spray-painted across the front of the Sanchez house. No message there.

A bike jump had been set up behind the car, and two teenagers wearing nothing but cargo shorts were practicing kamikaze acrobatics on their skateboards. One kid, a short Latino with tattoos on both arms, flew off the ramp and landed on the sidewalk, pumping his fist in the air and laughing in triumph. No message there.

Next door, Lupe and Fuzzball were howling, the sound rising and falling with unceasing monotony. Not a message she wanted to hear.

Bobby plopped down beside her, wearing the same shorts,T-shirt, and hiking boots he had been wearing ten years earlier when he stepped off a sixty-foot cliff in the Ruby Mountains. Helen glanced toward Bebe's house, afraid she had seen something horrific, but not sure. It could have been another hallucination, or a late-morning dream. "What do you think?"

Squinting, Bobby craned his neck toward the back fence, a sagging chain-link. Don't really know.

From the corner of the yard, Stripes crept toward them. Wary, the cat crouched in the brown grass, ears up, pupils wide, something in her mouth. Her green eyes focused on Helen, as if trying to communicate telepathically. Connection made, she crept forward, her coloring a perfect match for the dry grass, her prize poking out the side of her mouth like a mini cigar, then she zipped forward and deposited her gift at Helen's feet.

Helen stared at the offering, a woman's finger, the fingernail sporting a French manicure with a tiny fake diamond at the tip. The opposite end looked as if it had been snipped off with pruning shears, the white of the bone even with the flesh. "How about that? Bebe must have lost her press-on finger."

Bobby gave a disgusted snort. She wears press-on nails, not press-on fingers. Looks like she cut it off.

Helen's stomach knotted in sympathy. "Why would she do that?"

The baying from the next yard took on a mechanical quality,then quickly mutated into the familiar sound of emergency vehicles. When a squad of police cars screeched to a halt in front of Bebe's house, Helen realized she hadn't imagined things—the flashing lights proved that.

Uniforms slammed out of the cars, swarming around the house like well-armed ants. A large uniform, consisting of khaki pants and a matching shirt, banged his fist against the door. "Metro! Open up!" When no one answered, the man waved another uniform forward.

Helen wondered if it would be worthwhile to sell used uniforms in her booth. The police sure seemed to need a lot of them.

The new man hoisted a hand-held battering ram, and at some unseen signal smashed open the door. A gang of uniforms raced inside, their voices echoing back through the opening.

"Watch it!"

"Christ Almighty!"

"It's a damn slaughterhouse."

"Don't step on anything!"

"Check the hall!"

"Holy shit, wait for Crime Scene! Wait for Crime Scene!"

"Back out, goddamnit!"